Apartments Vela Blu
- Gulf of Marinella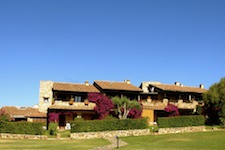 Vela Blu self-catering apartments are your ideal choice for total privacy and independence. They are surrounded by a beautiful garden and complete with a swimming pool.
Set on the Gulf of Marinella, Apartments Vela Blu are just 6 km from Porto Rotondo and 1 km from the port of Punta Marana.
Here you can relax by the large pool or take the small footpath down to the white sandy beach, just 500 metres away. Children can play safely in the large gardens.
Each apartment has a private entrance, fully equipped kitchenette with washing machine, and either a terrace or patio for fresco dining.